Restaurants have a lot on their plates—literally.
As a restaurant owner or manager, you want to make sure your customers have a great experience but you also need to keep up with inventory, staff and reporting, all while making sure you're not going over budget. It's a lot. But it doesn't have to be. Adding a restaurant POS system for tableside and takeout orders will help you provide a better experience, while taking some work off your plate.
Doing your research is key when looking for a restaurant POS system that can take on things like tableside and takeout orders. At Sekure Payment Experts, we've helped thousands of owners find the best POS systems for restaurants of all sizes. We know what goes into making an excellent system and what questions you should be asking yourself before committing to one.
Download the ultimate POS guide to restaurats here
So how do you choose the best POS system for your restaurant?
Navigating the often confusing payment processing and POS landscape in the restaurant industry can be overwhelming. There's so much information out there, and it can be difficult to decide which restaurant POS system would make your life easier with things like takeout and tableside ordering. That's where we come in.
Our industry experts help you by finding a customized solution specifically designed to streamline your operations and provide you with the tools and data you need to make informed decisions. Whether you're a seasoned pro or just starting out, we're here to help.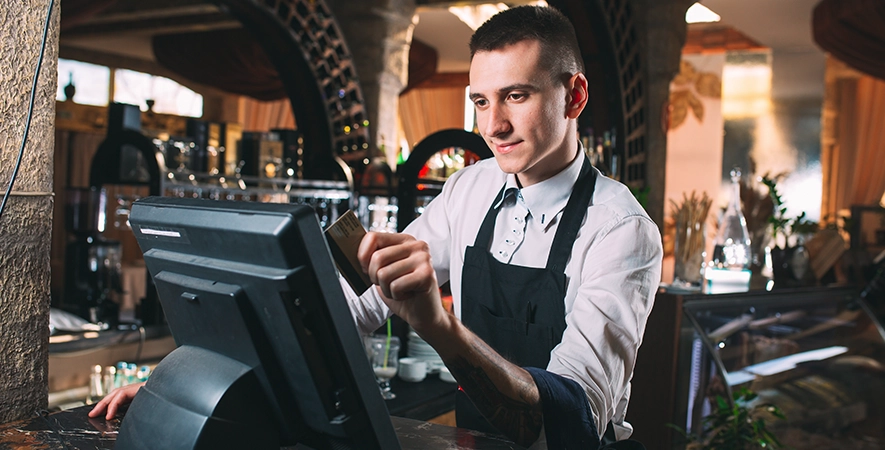 Features of a good restaurant POS system
Restaurant POS systems come in all shapes and sizes. Some important features to look for:
Tableside ordering and payments
Takeout features
Inventory management
Customer management
Reporting
Table management
Payment processing
Tableside ordering
Tableside payment processing solutions allow servers to take orders and process payments directly at the table, providing a quick, more personalized and efficient dining experience for customers, while at the same time reducing back and forth for staff. With a tablet POS system, you can do things like take orders online, or serve customers wherever they are in your restaurant. For tableside ordering, POS terminals empower servers to take orders directly at the table, enhancing the guest experience by reducing wait times and minimizing errors.
Takeout features
A POS system plays a crucial role in facilitating takeout orders for restaurants. It streamlines the ordering process, allowing customers to place their orders online quickly and accurately. Customers can browse menus, customize their orders, and make secure payments with ease. This not only enhances customer convenience but also reduces the potential for order errors. Orders are instantly transmitted to the kitchen staff, ensuring that the preparation process starts promptly. This real-time communication between front-of-house and back-of-house staff helps minimize waiting times for customers and ensures that takeout orders are ready on time.
Inventory management
Do you know what's in your pantry? A good restaurant POS system should also provide a real-time view of your inventory, helping you to track stock levels, manage ordering and reordering, and monitor waste.
Customer data tracking
Regulars are a restaurant's bread and butter. A POS with a comprehensive customer database lets you track customer orders, preferences, and loyalty. With this information you can have a better understanding of each individual customer's behavior and as a whole. Offer specific rewards to your best customers and keep them coming back for more.
Table management
How quickly you turn tables and serve customers will have a direct impact on how often customer's come back or recommend your restaurant. Table management is a critical component of any restaurant POS system, allowing you to manage reservations, seat customers, and track order status in real-time. Make sure to choose a POS system that's intuitive and makes it easy for staff to serve each table.
Payment processing
A reliable and secure payment processing system is a must for any restaurant, and the best restaurant POS systems should provide fast and seamless payment options, including card, cash, and mobile payments.
Reporting and analytics
A good restaurant POS system should provide detailed reporting and analytics, allowing you to track sales and performance, monitor customer behavior, and identify trends and opportunities for growth.
Sekure helps you find the restaurant POS system for you
With our wide net of partnerships we're able to help restaurants of different sizes find the right cloud-based restaurant POS solution for them. From taking orders and processing payments to inventory management and customer data tracking, Sekure helps you find the POS to manage all aspects of your restaurant operations.
Some of the key features our partners offer include:
Fast tableside and takeout ordering
Secure and reliable payment processing
Real-time inventory management
Comprehensive customer data tracking
Detailed reporting and analytics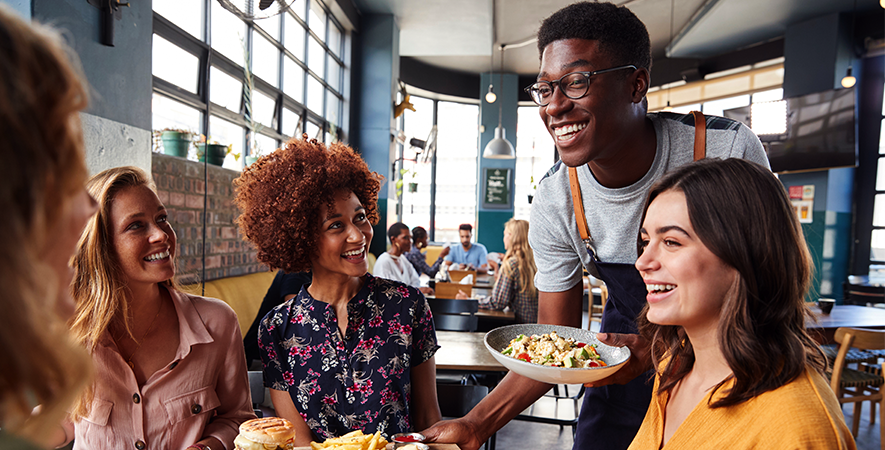 Your POS is one of the most important investments you'll make throughout your restaurant journey, so it's important to make sure that what you choose helps you work smarter and not harder.
The restaurant POS market industry grew to over 10 billion dollars in 2022, with a projected compounded annual growth rate of 8% from 2023-2032.  With so many options out there it can seem daunting to make a choice. We're here to help you get a better understanding of the payment processing industry and what a good POS for restaurants actually looks like.
Are you ready to take the next step? Our Payment Experts are here to answer questions and help you find the POS that's right for you. Schedule a demo today to get started.